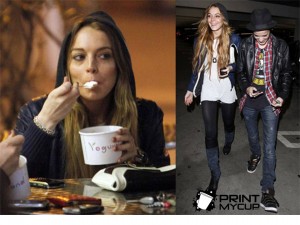 Leonardo DiCaprio has a Red Mango yogurt machine in his office. Paris Hilton and Lindsay Lohan have been photographed clutching Pinkberry yogurt cups while ducking the paparazzi.
Frozen yogurt, trendy during the 1980s and early '90s, has made a comeback — but this time with an edge. Companies selling the soft stuff are opening stores with hip decor and pulsating music that draw a young crowd. Celebrity bloggers like Perez Hilton have posted pictures of young Hollywood stars spooning yogurt into their mouths.
Veterans of the last yogurt boom, including TCBY, Penguins, and Tasti D-Lite are still operating, but their newer rivals have a different business model, going after a younger market that wants not just a frozen dessert, but an experience. The question for Pinkberry, Red Mango and the rest of this new generation of yogurt purveyors is whether they'll be able to grow into national brands — especially since their target market is known for having fickle tastes and a short attention span.
Moreover, the industry is already getting crowded, raising the possibility of a shakeout at some point. In Los Angeles, where the industry's latest incarnation began about two years ago, consumers can now choose from chains like Snowberry, Roseberry, Berri Good, Kiwiberri, Yogurtland, Yogurberry and IceBerry.
The concept behind Red Mango and Pinkberry is to keep customers in the store, rather than have them buy their yogurt and just leave as in more traditional yogurt and ice cream places. And so the decor at a Pinkberry includes $350 Philippe Starck chairs and $391 Le Lint lights.
"We're trying to create the coffeehouse environment," said Dan Kim, chief executive of Red Mango. "We're creating an ambiance, a point of relaxation, a meeting place."
And unlike the variety of flavors offered by the older shops, Pinkberry and Red Mango generally offer just two flavors — plain and green tea — and they are more tart than the previous generation's products. The average purchase price is about $5, but can double with added toppings like fresh berries, granola and Fruity Pebbles.
Advertise | AdChoices
Both Pinkberry and Red Mango rely on slick marketing campaigns and celebrity connections. The trend toward healthy eating might be a key to the longevity of the new frozen yogurt chains.